---
HOTEL RESERVATIONS:
You must book your hotel reservation separately and directly with the hotel– either online or by phone by Friday, February 10, 2017.
Loews Don CeSar Hotel

3400 Gulf Boulevard,
St. Pete Beach, FL 33706
Note:  Please make hotel reservations under the name of the FAMA member attending the meeting.
Phone: 800-282-1116
Specify Group Name: Fire Apparatus Manufacturers' Association (or FAMA) and the block dates of March 18-21
Group Room Rate: $294/n plus applicable taxes
(Based on availability, the group room block rate is applicable 3/14/16 – 3/24/16)
Room Reservation Deadline:  Friday, February 10, 2017
Hotel Room Block Update:  2/9/16
The Don CeSar Hotel has only a few rooms remaining within the FAMA discounted hotel room block.  There are currently some additional non-discounted rooms available.  Rates will vary depending on the days you plan to attend.  We encourage you to make your reservations now – you have 72 hours to cancel if your plans change.  Please call the 800 number listed below.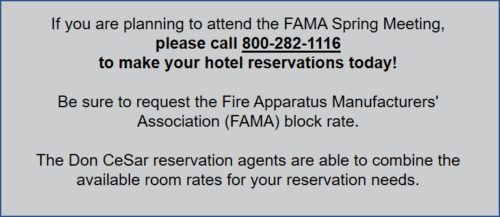 GOLF TOURNAMENT

Sunday, March 19th
1:00 PM Shotgun Start
Pasadena Yacht & Country Club
6300 Pasadena Point Blvd.
Gulfport, FL  33707
For questions regarding the golf tournament, please contact Nicole Sateren at 402-218-2762.
Dress Code – A collared shirt, or mock turtleneck shirt is required for gentlemen, collared or rounded neck shirts, with or without sleeves for ladies. Shorts must be worn Bermuda length.  No denim clothing is permitted.  Metal golf spikes are not permitted.
Other Golf Course and Tournament Information
Directions from the Don CeSar Hotel
Pasadena Yacht & Country Club History and Information
SPOUSE/GUEST EVENT

Monday, March 20th – Mimosas and the Chihuly Collection
9:00 AM – Gather at the hotel's South Entrance on the Garden (Ground) Level.
Transportation to the Chihuly Collection will
depart promptly at 9:30 AM and return to the hotel at 11:30 AM,
in time to enjoy lunch and the Beach Party.
Please send RSVP to info@fama.org

TECHNICAL COMMITTEE PLANNING MEETING

Saturday, March 18th
1:00 – 5:00 PM
Buena Vista Meeting Room on 5th Floor
at the Don CeSar Hotel in St. Pete Beach, FL.
Refreshments will be served, please send RSVP to info@fama.org.
Technical Committee Planning Meeting Agenda
PRELIMINARY SCHEDULE OF MEETINGS AND FUNCTIONS:
Saturday, March 18           Arrival
11:00 am – 11:00 pm           Hospitality Suite Open
1:00 pm – 5:00 pm               Technical Sub Committee Leaders Meeting (open to all member representatives)
5:30 pm – 6:00 pm               New Member/First-Time Attendee Reception
6:00 pm – 7:30 pm               Welcome Reception – All Members/Spouses
Sunday, March 19
7:00 am – 7:30 am                Board of Directors' Breakfast
7:30 am – 9:30 am                Board of Directors' Meeting
9:30 am – 12:00 pm             Board of Directors/Committee Chairs Meeting
11:00 am – 11:00 pm            Hospitality Suite Open
1:00 pm – 5:00 pm               Golf Tournament (* registration link to be provided above)
Monday, March 20
7:30 am – 8:00 am               Member Breakfast
8:00 am – 12:00 pm             FAMA Membership Meeting
9:00 am – 11:30 am              Spouse/Guest Event
12:00 pm – 4:00 pm            Beach Party (lunch included)
12:00 pm – 11:00 pm           Hospitality Suite Open (exclusive of dinner hours)
6:00 pm – 7:00 pm              Reception
7:00 pm                                  Awards Dinner
Tuesday, March 21
7:30 am – 8:00 am               Member Breakfast
8:00 am – 12:00 pm             FAMA Membership Meeting
Wednesday, March 22         Departure