---

REGISTER ONLINE TODAY by clicking the link above or via:  https://www.fama.org/spring 2020/
 THE DEADLINE TO REGISTER FOR THE MEETING HAS BEEN EXTENDED TO:  Friday, February 24, 2020
If you do not receive an electronic confirmation within 48 business hours of submitting your on-line meeting registration,
contact Sonya Kelly at info@fama.org.  NOTE:  Your confirmation is also your receipt for your registration.
Click HERE to download a current list of Registered Attendees.
If you've already registered but, want to register a spouse or guest* to attend
please click HERE to download the offline registration form.
For accurate seating and F&B planning reasons,
please register any guests no later than Friday, February 21, 2020.
* Employees of member companies are not eligible for the reduced Spouse/Guest Fee.

MEETING REGISTRATION FEES AND ASSOCIATION POLICIES

Employees of member companies: $350 per person
Each employee must complete a separate registration form
Guests (non-employee) / Spouses- $200 per person
Children 11 years or more – $200 per person
Children 3-10 – $100 per person
Children under 3 – no charge
The Association does not offer an "a la carte" meeting fee schedule.
Meeting fees may be modified as necessary by the Board on notice to the membership.
ASSOCIATION MEETING REGISTRATION AND ATTENDEE POLICIES –
All guests attending or participating in any of the event functions are required by the Association policies to be registered.
Attendee badges are required at all event functions.
The Association does not offer an "a la carte" meeting fee schedule.
Meeting fees may be modified as necessary by the Board on notice to the membership.
Members are reminded that FAMA policies prohibit direct selling during meeting events and in common areas of the hotel where members socialize and network.
REFUND POLICY –
Annual membership meeting registration fees will not be refunded but, will be credited toward the next Spring Membership Meeting. Credits are valid for one year.
Due to hotel food and beverage order requirements, cancellations received within seven days of the start of the event and without extenuating circumstances, are not valid for credit.
Attendee cancellations must be submitted in writing and should be emailed to info@fama.org.
MEETING DRESS CODE – Meetings are casual (shorts are acceptable). Dinner is business casual (no shorts). Jackets and ties are not required.
HOTEL RESERVATION DETAILS
The Don CeSar Hotel
3400 Gulf Boulevard
St. Pete Beach, FL 33706
727-360-1881
Event Dates:  March 21-24, 2020
(For details see Preliminary Event Schedule provided below.)
Click HERE to make your hotel reservations
Hotel Reservation Phone Number: 800-282-1116 be sure to specify group name: "FAMA 2020 Spring Meeting"
Group Room Rate: $309/night plus applicable taxes
(Based on availability, the group room block rate is applicable 3/13/20 – 3/27/20)
Note:  Please be sure to make your hotel reservations under the name of the FAMA member attending the meeting.
Room Reservation Deadline has been extended to:  Friday, February 24, 2020
To accommodate all member requests and fulfill our room block commitment, the hotel reservation deadline by February 24, 2020.  After that date, any remaining rooms in the block will be returned to the hotel and the group rate will no longer be available.
Resort Fee:
The Don CeSar's required Resort Fee of $25.00/day has been negotiated to only $5.00/day for FAMA members. The Resort Fee provides the following and more:  WiFi, complimentary tastings, two bottled waters per day, 24-hour access to the fitness center, yoga and aerobics classes daily, turndown service, non-motorized watersport rentals from 8AM – 10AM, pool and beach games, half-day access to Camp CeSar for kids 4-12.
Hotel Policies
Hotel Reservation Policy – The Association negotiates a special room rate each year. After the date the room block closes, the Association reduced room block rate will not be available. The hotel contract provides a fixed number of rooms in the room block. Contracted hotel room blocks are determined and based on past meeting attendance. Reservations in the room block are provided on a first-come, first-served basis.
Hotel Cancellation Policies

Cancellations must be made 72-hours prior to reservation arrival date/time to avoid a one-night room and tax cancellation fee.
Early departures or checking out prior to your original reservation departure date, will be assessed a charge of 50% of the rate for each night that the guest is departing early.
A deposit equal to the first night room and tax is due at the time of booking.
You must book your hotel reservation separately and directly with the hotel– either online or by phone by Friday, January 24, 2020.
2020 GOLF TOURNAMENT

Sunday, March 22, 2020
Deadline to Register for Golf is:  Saturday, February 1, 2020.


Golf:  $125.00/pp includes green fees, golf cart, lunch, and round-trip transportation.
NOTE:  The bus will depart the hotel promptly at 11:30 AM.
Club Rental is:  $50.00
The schedule for the tournament follows:
11:30 AM Bus departs from The Don CeSar Hotel
12:00 PM Lunch
1:00 PM Shotgun start
Register for the meeting and golf at the same time using the red "REGISTER TO ATTEND" button at the top of the page.
To register for golf only (separate from the meeting registration), please click HERE.
The Deadline to Register for Golf:  Saturday, February 1, 2020
Dress Code and Proper Conduct – Proper attire and conduct are strictly enforced. Damages to persons, the golf course, equipment, rental clubs, golf cars, or clubhouse facilities are the responsibility of the individual accountable.
Bayou Club
Course Address:
7979 Bayou Club Blvd.
Largo, FL  33777
Phone: 727-392-1045
https://www.bayouclubgolf.com/
For questions regarding the golf tournament, please contact Ron Truhler at 574-850-2395 or Sonya Kelly at 352-843-3404.
NOTE: Golf registration and club rental fees are not subject to refund or valid towards credit of future meeting registration fees.
Thank You to the 2020 Golf Tournament Sponsors: 

SPOUSE/GUEST EVENT INFORMATION

Monday, March 23, 2020 – 9:00 AM – 12:30 PM
For accurate planning, please be sure to R.S.V.P.
Details and information to come.
TECHNICAL COMMITTEE PLANNING MEETING



Saturday, March 21st
1:00 – 5:00 PM EDT
The Don CeSar Hotel
Meeting room:  TBA
Refreshments will be served, please send RSVP to info@fama.org.
Click HERE to download the meeting agenda.
OVERALL EVENT SCHEDULE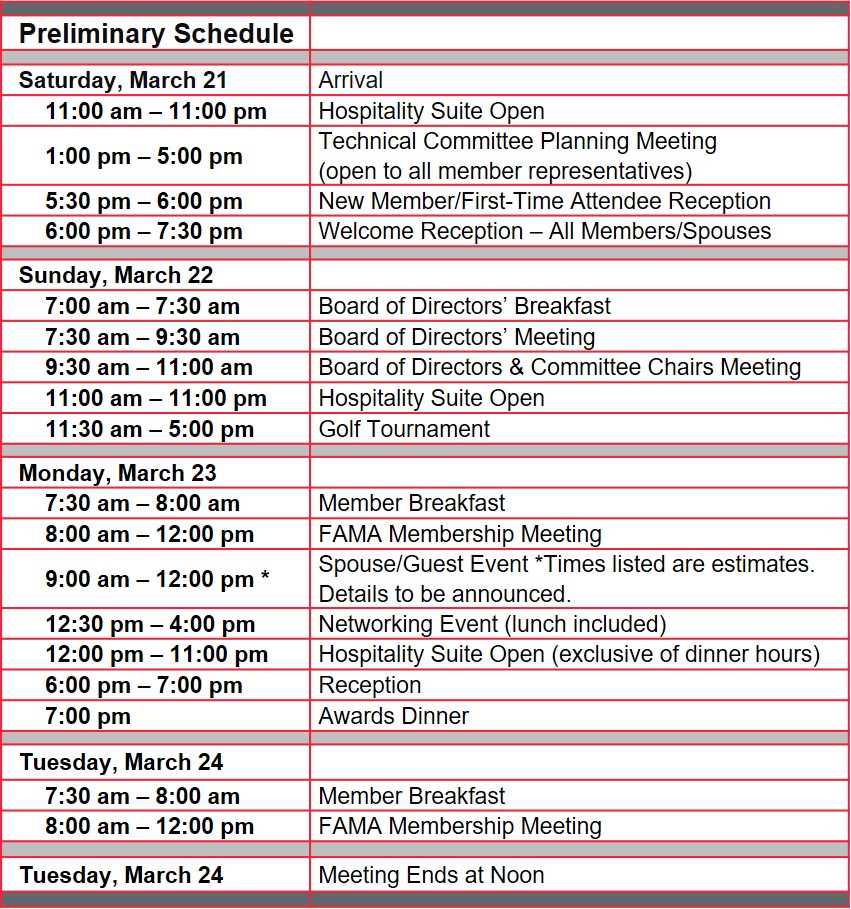 To download the above Event Schedule click HERE.
MEETING SPONSORS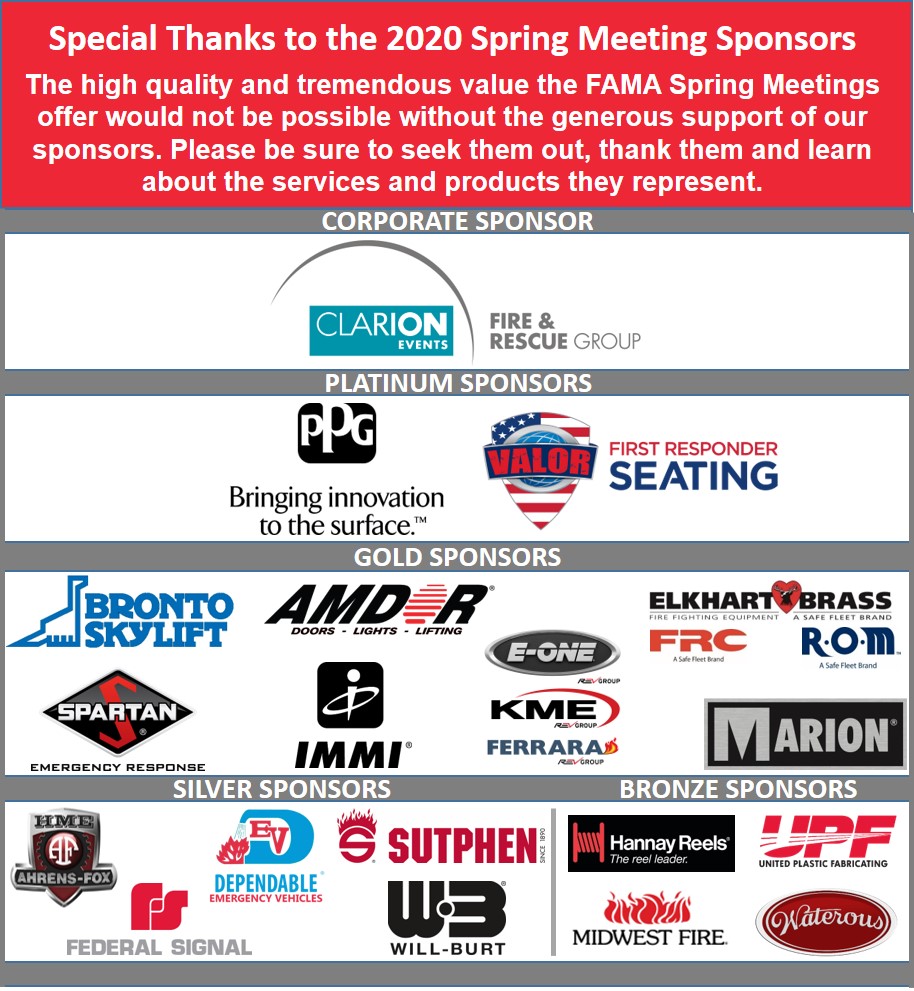 Please contact Chick Granito at chick@amdor.com or Sonya Kelly at skelly@fama.org if you are interested in a sponsorship.
Benefits of Sponsorship
Formal recognition in meeting materials and from podium each day
Signage appropriately displayed during the sponsored event
Recognition in the FAMA/FEMSA Newsletter
Opportunity to place promotional material during your sponsored event **
Exposure to the FAMA members
Build new relationships with potential customers
*    Corporate sponsorship includes two large banners and the benefits listed above.
**   Promotional material must be approved in advance.