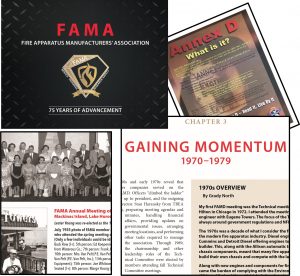 All FAMA records known to exist have been researched and examined. We reached out to every living past president and several prominent leaders. Many chose to share memories of their involvement and shed light upon FAMA's progress through the decades. This collaborative effort uncovered treasured facts that now frame a historical overview of the Fire Apparatus Manufacturers' Association from its early beginnings to current times, in celebration of FAMA's 75th anniversary.
We are finally at press and are excited to share this compendium of information with you in a professionally printed, hard-bound book of over 120 pages. Each member company will receive one book. If you want your own personal book or additional copies for your business, click on the link below and submit your order no later than
Friday, October 29th!
The cost per book is $50.00 plus shipping and handling charges.
For U.S. Shipping Addresses,

U.S.P.S. Priority Mail will be used for orders delivering within in U.S. The following are the shipping and handling rates:
1 Book – Shipping + Handling Fee $11.00
2-7 Books – Shipping + Handling Fee $19.00
8-12 Books – Shipping + Handling Fee $27.00
For Canadian Shipping Addresses,

Your credit card will not be charged until the shipping cost is determined.