Over the past four decades, natural disasters have been on a significant rise–wildland fires, including significant wildland urban interface (WUI) events; hurricanes; earthquakes; flooding; tornadoes; and other natural events such as mudslides (many resulting from past wildland fires). The trend here supported by data outlined in this article is a fact that has been apparent in the firefighting and emergency response communities and FAMA member companies alike. These trends are driving significant change with both our customers and with our products.
The root cause of the increase in these events is not the focus of the article and can be left for debate at your local coffee shop, tavern, or perhaps for the next election cycle. The data, however, tells a clear story and one of which our customers in the fire and emergency services are well aware. Innovations to fire apparatus and equipment necessitated the increase in bipartisan political awareness and resultant financial attention via budget allocations and executive actions and the like, as well as the response our industry has and will continue to provide because of the increases, are certainly noteworthy and are of significant import for our industry to continue to provide.
Increase in Natural Disaster Frequency and Severity
According to the U.S. National Oceanic and Atmospheric Administration (NOAA), "The average number and cost (CPI-adjusted) of billion-dollar disasters are on the rise. The average for the entire record (1980-2020) is 7 events per year, costing $45.7 billion per year. By 2020, it had risen again to about 85% of all disaster-related costs, or $1.875 trillion out of $2.215 trillion." Yes, that is trillion with a T; that is also more than a 100% increase in these events annually, both staggering figures.
While perhaps not the largest portion of these costs, these events come at a significant cost to the fire and emergency services in both personnel costs and equipment costs. The need for additional preparedness, staffing, and equipment continues to rise.
Figure 1.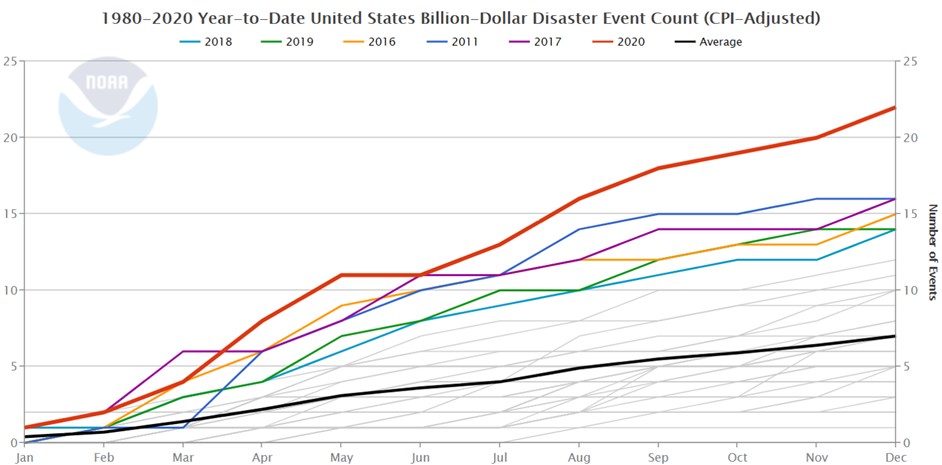 Figures 1 and 2 are focused primarily on extremely large-scale disasters, those in the billion-dollar range or more as noted. As you will see in Figure 2, which lists 14 such events across the continental United States in 2018, there is not a region that has been immune to significant natural disasters. The occurrence of similar disasters, perhaps at a smaller scale or cost but nonetheless significant events, is also on the rise across North America and is drawing appropriate focus from our legislators and lawmakers.
Figure 2.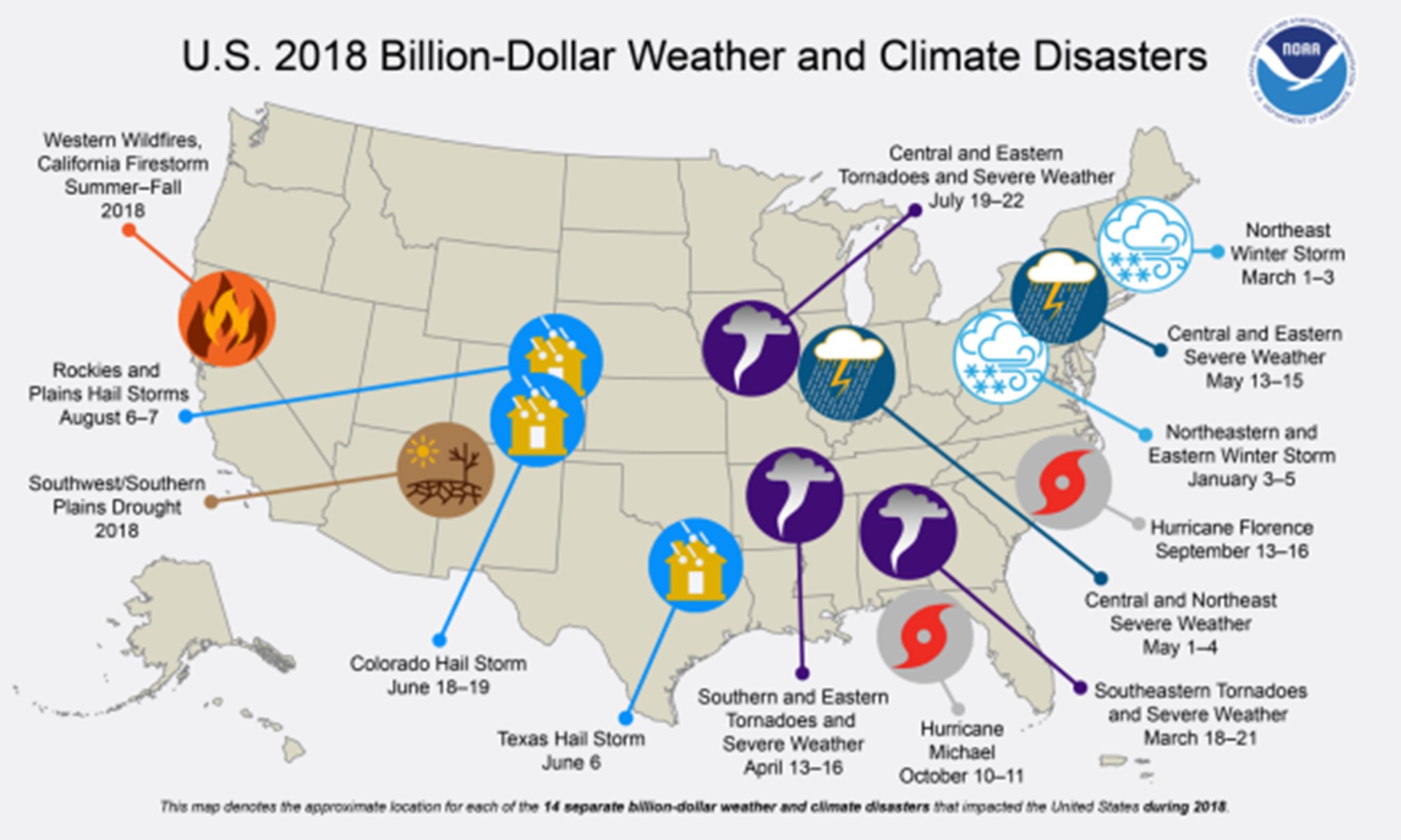 Collaborative Response of FAMA Member Companies and Fire and Emergency Stakeholders
The increased severity and frequency of these disasters have driven a need for new innovations in equipment and apparatus alike. We have also seen a continuation of agencies and municipalities shoring up interoperability; new communications networks like Firstnet; and increased collaboration in mutual aid or other joint responses, a common practice historically between neighboring departments. The professionalization, organization, and the necessity for further reach, access to equipment, and information in these situations has been taken to new levels as evidenced by programs such as the Mutual Aid Box Alarm System (MABAS) and the National Fire Incident Reporting System (NIFRS), which collects and disseminates fire service data through the Federal Emergency Management Agency (FEMA).
As it relates to FAMA members and industry response, I am reminded of a sentiment Bill Darley used to continually ingrain into the team at Darley: "For nearly every problematic headline in the newspaper, there lies an opportunity to provide a solution to our customers to help them solve." This sentiment and the position as solution providers span not just Darley but the majority of our member companies, who work hand in hand with our fire department and emergency services customers to collaborate and produce equipment designed to meet the challenges they face in serving their communities.
As of this writing, yet another significant wildland and WUI season is upon us, a season we used to refer to as seasonal that is now seemingly a year-round ordeal. Hurricane season is coming, and the tropical storms have already brushed our shores. These events will continue to be responded to in smarter and safer ways by our customers based on the continued efforts we put in together with possibly different equipment than the equipment used in the past or at least evolved equipment.
In recent years, because of responses and challenges in some of the larger WUI events, one major state agency is already using adapted equipment to overcome previous challenges. CAL FIRE has recently employed a new design using a smaller, more nimble chassis–a Ford F-550, typically used as a Type 6, which has lower volume capacity and performance requirements than the historic "Model 34s." While the Model 34 is built on a full-size commercial chassis, this new apparatus was redesigned into a higher-flow-capable pumper and set up from a plumbing and equipment standpoint to be able to provide structural firefighting flows and work off of hydrants, despite the prevalence of mini-pumpers or initial attack apparatus built on this same chassis. This is not typical for apparatus in this size range for WUI duties at most state or federal agencies. The drive behind this innovation occurred in recent conflagrations such as the Thomas and Camp Fires, where larger Type 3 chassis were unable to access fires because of road blockages from down power lines, stalled or abandoned vehicles, and so on.
In other collaborative innovations and examples of the FAMA member companies partnering with the customer to provide solutions, we've seen the advent of newer technologies such as drones, or UAVs, being deployed for any number of applications from reconnaissance in hurricanes to identification of stranded victims in flooding scenarios. FAMA member companies have worked with their customers to develop specialty vehicles integrating both software and hardware for both rapid deployment of the drones and to set up mini-mobile command centers and full command centers. This allows the rapid processing of this surveillance, scene size-up, and the transfer of real-time information to incident commanders on scenes of natural disasters.
We have also seen highwater rescue vehicles evolving and chassis manufacturers adapting air intake, electrical, and exhaust systems to combat the damage or potential for apparatus to be rendered ineffective in high water situations as we have seen in the flooding in Texas and other areas. Necessity is the mother of invention, and the necessity in these natural disasters has been bearing much fruit from our FAMA members.
Increase in Federal, State Funding
The increase in funding in recent years has been an important catalyst to support the innovations to equip our customer base with the right tools for the job, whether new technology adaptations of vehicles that have followed a similar mold or, as we refer to, a similar "spec" for decades.
As noted in the NOAA figures and FEMA reports mentioned, natural disaster funding has followed the significant rise in the occurrence and magnitude of those events. From California to Florida to D.C. and beyond, these legislative dollars could actually be looked at as one of the few real growth markets in the fire apparatus industry, a good thing for FAMA members and our customers alike. Even as UASI, SAFER, and FIRE ACT grants may not be funded at the levels realized post 9/11, we continue to see the inclusion of the fire and emergency services in a number of executive orders and ongoing legislation.
Significant funding can also be found in preventive programs in the form of mitigation funds through FEMA; most recently the Biden administration has announced more than $3.2 billion in proposed wildfire mitigation funding in a recent budget proposal. Although these mitigation dollars are not necessarily a direct shot in the arm to our industry or most members of FAMA, the funding may free up dollars or provide a relief to funding and budgets that would have otherwise been split between the preventive and the reactive. The reactive side would be apparatus and equipment focused budgets–keep your eyes on that.
I'd be remiss not to acknowledge the hard work of many FAMA members who participated in "Hill Days" on Capitol Hill; were involved in our GAC committees in D.C.; at state and local levels hosted Home Days throughout the country as part of continuing to further this awareness and need for funding; and worked to pull together our industry partners and the influencers in our customer bases in the IAFC, IAFF, and other shareholders to speak with a unified voice on the funding needs for safer cutting edge equipment that helps firefighters do their jobs both safer and smarter.
The world continues to change, natural disasters are on the rise, innovation is moving rapidly, and the much-needed funding is being made available. FAMA members are working with our customers to answer the call; keep up the good work, and keep innovating to support the FAMA and fire service missions.
FAMA is committed to the manufacture and sale of safe, efficient emergency response vehicles and equipment. FAMA urges fire departments to evaluate the full range of safety features offered by its member companies.
FAMA Forum creative content is contributed by unpaid volunteer authors. Any opinions expressed herein are exclusively those of the author and are not intended to represent the views of FAMA or its member companies.