Fire Apparatus Manufacturers' Association (FAMA) members have been working to lessen the impact of corrosion on apparatus, and we are not alone! The costs and impacts of corrosion are felt in all vocations. A joint report issued by the U.S. Federal Highway Administration and NACE (a leading authority on education and training on corrosion) estimates the cost of corrosion to be a staggering $276 billion issue, and upward of $29 billion of that is in the transportation segments. So, are we alone in the fire service? That answer is no! However, we are special as it relates to the use and expectation of long service life expectancy. We have a long road ahead us, and the risks are high if we don't manage and work toward preventive measures as they relate to corrosion and its negative effects on our equipment.
BAD ASSUMPTION
I once assumed that serious corrosion was only a snow belt issue—I was wrong! I have the opportunity to talk to dealers and vendors from throughout the United States and Canada on a routine basis, and the consensus is clear: "We" have a problem. And like all problems, there are short term fixes and long-term cures. However, there is surely not only one answer to this complex problem. In the fire service, we put our apparatus in harm's way under extreme rigors and expect a high level of performance over a long period of time. So, what can we do to ensure that we are not only preventing undesirable downtime but also limiting the effects of corrosion? Read on!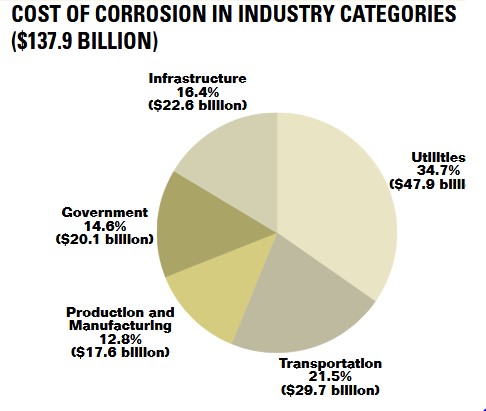 ROAD DEICERS: FRIENDS OR FOES?
Where is all this rust stemming from? Over the past decades, the quantity and frequency of deicing agent application has skyrocketed with new and improved compounds and methods of concentrate application—especially the liquid deicing compounds that have been formulated for extensive use on the nation's roadways. These new super formulas are very effective at their intended purpose. However, they are taking a residual financial toll on the equipment.
NEW APPARATUS ACTIONS
As many apparatus and chassis manufacturers have done, we must adapt, change our ways, and react differently to this impeding force. As a vocation, we have seen a shift to alternative coatings and new materials, such as using composites for bodies and tanks. Further, increased efforts and educational awareness of the effects of the compounds and how to best combat them are in great need. Manufacturers are moving toward advanced coating processes as well as proven methodologies such as galvanizing. Engineering and assembly best practices are being deployed to isolate dissimilar metals. This practice works to stop electrolysis, a leading culprit in advancing corrosive damage.
When specifying a new chassis or apparatus, be sure to ask your product representatives about the manufacturers' use of anticorrosive materials and assembly practices. Tour their facilities and ensure you are getting a product to meet the demands of your application.
IN-SERVICE SOLUTIONS
With existing equipment in service, is it too late to stop the corrosion? A mindset of "better late than never" applies. The earlier you start to combat the salts, chloride compounds, and initial corrosion buildup, the less you will pay down the road. Annual or monthly inspection and applying proper cleaning and anticorrosive compounds can assist in neutralizing the caustic chemicals and extend the life cycle of the vehicle. Be sure to apply from top to bottom when working underneath the vehicle. The liquid deicers are notorious for coating all facets and components of a vehicle's undercarriage.
Pressure washing with a high-quality detergent and reapplication based on duty and exposure to an anticorrosion or inhibitor compound is highly suggested. It is often common to see a piece of equipment that looks good topside, but upon a thorough inspection of the undercarriage, extensive damage is present and often extremely costly to repair or replace.
Pay special attention to where dirt and debris can accumulate, removing all debris, dirt, and buildup to ensure that the metal surfaces are treated. Electrical connectors and wiring are a prime example of areas to inspect routinely, looking for loose connections and or damage. Immediate repair and correction as well as proactive treatment with a proper dialectic compound is strongly suggested.
MINIMIZING CORROSION AND EXPOSURE
There are a variety of ways to maintain fire apparatus to minimize corrosion and exposure including the following:
Routine body and chassis washing/rinsing after use—including the complete undercarriage.
Inhibitor applications.
Radiator and cooling package: lightly rinse and cleanse the assembly, removing any foreign matter/debris and road spray accumulation.
Routine inspections of drain holes, keeping them clear to allow moisture and contaminants to exit (i.e.: door pans, battery boxes, and body compartments).
Routinely applying and reapplying nonconductive lubricants or sealants.
Key places and components to inspect:

Between frame and frame liners: reapply sealant and caulk after washing debris out of crevices.
Between torque box and frame.
Between fuel tank and straps.
Under window seals and trim.
Bottom of door panels.
Body supports and underpinnings.
Around compartment door hardware and hinges.
Any area where dirt/debris or road overspray builds up.
Reapply coatings and repair damaged surfaces with top coatings.
TIPS FOR SPECIFYING NEW FIRE APPARATUS
As noted earlier, your vendor and supplier reps are your greatest resources for what is new and what levels of protection are out there. While your FAMA member companies can't work miracles, we are all concerned with the corrosion crisis and are actively working to provide answers where we can. These may include advanced processes or materials or anticorrosive compounds that lessen the ability of foreign and corrosive chemicals to violate the factory surfaces and finishes. We are not alone and will continue to engage with the transportation sector as a whole to seek solutions wherever they may be found.
FAMA is committed to the manufacture and sale of safe, efficient emergency response vehicles and equipment. FAMA urges fire departments to evaluate the full range of safety features offered by its member companies.
REFERENCES
https://www.nace.org/Publications/Cost-of-Corrosion-Study/
https://www.nace.org/uploadedFiles/Publications/ccsupp.pdf