GENERAL INFO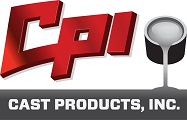 Cast Products, Inc.
P.O. Box 1202
Athens, AL 35611
P.O. Box 1202 Athens AL 35611
CONTACTS
Colin McMurry
Vice President of Sales
colin@getcpi.com
256-233-1500 (office)
John Harrel
Regional Sales Manager
johnh@getcpi.com
800-468-2278 (office)
COMPANY SUMMARY
We are a privately owned engineering and manufacturing company specializing in cast aluminum products for a variety of industries, including emergency vehicles and apparatus.  Since 1979, we have continued to develop our own line of innovative products while also offering proprietary casting services to customers around the world.  Our corporate capabilities include product design engineering, pattern making, machining and finishing, product assembly, and excellent customer service. By vertically integrating all processes required to manufacture aluminum castings, we are able to rapidly produce patterns and production parts with strict quality control at competitive prices.